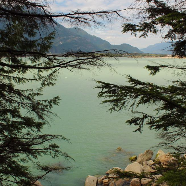 Stay Safe & Keep on Camping!

Klahanie Campground prioritizes the safety and wellbeing of both our guests and staff. We ask that you take a moment to review our policies before arriving. Failure to abide by these policies can result in extra fees or eviction from the park without a refund.
General Rules & Regulations
- Campfires are permitted within provided fire pits. We recommend you visit BC Wildfire Services to review current campfire policies within the Sea to Sky Forest District.

- We ask that you do not move the fire pit from its location.

- Firewood is available for purchase at the office. The burning of lumber, plywood, leaves, yard waste, construction materials, tree bark, hedge, or grass clippings is prohibited.
- Collecting firewood within the park is prohibited. Campers caught collecting wood will be evicted without a refund.

- Campfires must be no greater than 10 inches of flame and be supervised at all times.
Failure to comply with the rules and regulations will result in extra fees, eviction from the park, and no refund for the lost reservation.
***Fee's do not include tax
Clean up fee (sites left unclean including micro trash): $50.00

Day guest not checked out by 10:00pm: $10.00

Un-registered trespassers: $35.00

Burning of unapproved material: $40.00

Dogs off the leash: $10.00

- Registration and payment in full must be completed at the Klahanie Campground office prior to setting up camp or having your day guests arrive at your site. Note that day guests are required to vacate the park no later than 10:00 pm

- Check-in Time: Anytime after 1:00pm / Check-Out Time: 11:00am
Quiet Hours: Begin at 10:00 pm

- Generators are not permitted within the park.

- Alcohol consumption is permitted to the boundaries of your campsite

- Pets must be leashed at all times

- Vehicles on the campground must not exceed 10km/hr – this is to ensure the safety of all campers, pets, campground staff, and wildlife

- Klahanie Campground reserves the right to refuse service to guests who are uncooperative or pose a danger in any way to other guests or staff

- Unregistered guests will be evicted immediately and charged a trespassing fee of $35.00 per person.

-In the event you need to cancel your reservation, you must provide the Campground office a minimum of 48 hours notice (Please see Cancellation & Changes tab ).

- Refunds will not be provided for early departures.

- We are practicing LNT, campsites, and fire pits left unclean will be subjected to a $50.00 clean-up fee. This includes micro trash such as cigarette butts, sunflower seeds, bottle caps, wrappers, fruit and vegetable skins, eggshells, twist ties, rice, ETC, ETC, ETC, ETC.